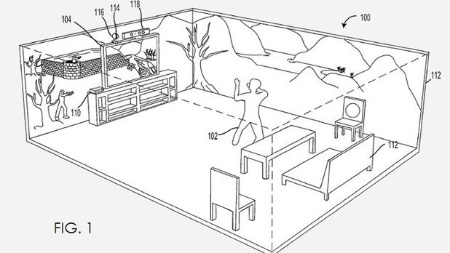 De acordo com uma patente registrada pela Microsoft, a empresa está trabalhando em uma nova tecnologia que vai projetar um ambiente 3D na área de jogo, como por exemplo, a sua sala de estar. A notícia é do site Computer and Videogames.
O aparelho será uma espécie de "Kinect 2.0", equipado com uma câmera capaz de calcular a distância entre o jogador e o equipamento ao emitir sinais infravermelhos. Ela também poderá avaliar a postura e os movimentos feitos durante a jogatina, além de projetar o ambiente do jogo em três dimensões na área de jogo.
Outro dado apontado pelo Computer and Videogames é que essa nova tecnologia funcionaria em conjunto com um par de óculos de realidade aumentada, e o item ajudaria a ver hologramas criados ao redor do jogador. A câmera seria capaz de reconhecer a direção da visão e enviar sinais para que os óculos reproduzam o ambiente.
O documento da Microsoft aparentemente confirma essa ideia de interação entre óculos e câmera, pois menciona que o jogador poderá "aproveitar uma experiência 3D usando um acessório, como óculos configurados para operar em sincronia com uma sequência alternativa de imagens".
Até o momento a Microsoft não se manifestou para falar sobre a patente, que pode ser usada no sucessor do Xbox 360.
(fonte: Uol Jogos)